Some winters we have to deal with bitter cold, freezing wind, ice covered trails and lots of snow! It's these winters that can make us stronger – as long as we train appropriately.
Here are some suggestions for how to train outside safely and most effectively when the weather is working against us.
If you are bound and determined to run outside in freezing cold, wind-chilled and icy weather:
Wear your Yaktrax or another spike/gripping device over your shoes.
Take shorter steps and/or increase your cadence to improve your balance.

Run slower than you expected to run in nice weather.

Cover all of your skin – even your face! Using vaseline or another skin lubricant will protect your skin from the elements. In addition to a hat, you can also wear a balaclava or face mask to cover the rest of your face.

Use goggles. Seriously. Use downhill ski goggles or the largest goggles you have to cover your eyes and any exposed area around the eyes.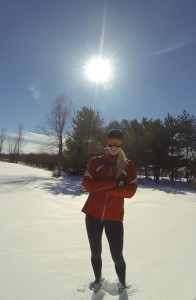 Breathe through a neckie. This is very important in the cold, especially with a wind chill. Pull the neckie up over your nose and mouth and breathe normally through this. Once the mouth area gets wet with breath vapor, rotate the neckie to a dry spot and repeat throughout the run. By breathing through a layer of material, you help to warm the air before it enters your lungs, which will put less stress on your lungs and aid in delaying how quickly your body cools.

Remember that a wind chill of -20 degrees Fahrenheit can cause frostbite within 30 minutes – much less than many of our runs, so please be safe!
For tips on how to do strength / circuit training indoors, read here.