Stay Safe while out on the Roads and Trails this Winter
Every Day Should be Running Safety Day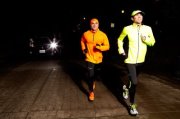 Even though we should ALWAYS be conscious about our safety while out running or cycling, the fall and winter is a time when we start to lose daylight hours for training. Whether you're putting in miles in the early morning or after you get home from work in the evening, you are definitely out in the dark now.
Here are some tips on how to stay safe while running in these dark, long, winter months:
·         Be as visible as possible!
Wear reflective or lighted clothing. There are a lot of great products out that light up, blink / flash and draw a lot of attention to you. Lighted products hook on your shoes, shirt, head or anywhere on your body. The best way to be seen is to light up!
·         Wear a Headlamp
I realize that headlamps are a little dorky. They may evoke thoughts of spelunking or mining, but headlamps are the best way to see a dark path and avoid that nasty ankle sprain. They can also draw the attention of an oncoming vehicle to stay away from you. An alternative is to hold a flashlight in your hand to light up the path and to flash toward oncoming traffic to notify them of your presence.
·         Run Against Traffic
This is nothing new to you runners. Stay on the left side of the road so you can see oncoming traffic and they can see your headlamp or flashlight.
·         DON'T Wear Headphones
The dark runs will be for safety. You can listen to your jams (or podcasts, audiobooks) in the gym or when you don't need all of your senses peaked. Make sure you can hear anyone coming up behind you. Even in a safe situation, being startled can cause you to lose your footing and get hurt.
·         Wear Footwear That Grips
Use some products over your shoes that grip the slippery surfaces better than your shoe soles. Some trail and all-weather shoes also have heartier treads and will help keep you upright on the icy, snowy trails. You can find these at your local running store.
Stay safe and happy and overall, have fun out there!