When I was Invited to The White House
You read that correctly! This year I was lecturing at the American Physical Therapy Association's Combined Sections Meeting in Las Vegas, NV on (big surprise here) running. Once the lecture was over I was asked by a representative from The White House if I would be willing to consult and help The White House keep their runners healthy and injury-free. Of course, I agreed and here's what happened.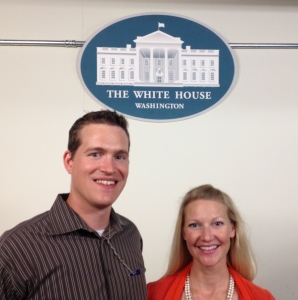 I provide consulting to physical therapy clinics, businesses and organizations in order to promote running and wellness and to keep those that are already running, healthy. Consulting with the important people of The White House is really not much different than consulting with the typical runner who is training for their first race. They are all a bunch of smart, energetic, hard working people who enjoy running, but may get themselves into trouble with injuries and training issues, just like the rest of us. Most of the runners at The White House do not have much time to run during the week. They squeeze in runs on their lunch hour or in between travel and don't spend time thinking about warming up, cooling down or injury prevention.
My task was to provide The White House staff with ways to incorporate more regular training, prevent injuries, and help those that wanted to get faster to improve their performance.
Here are a few points that The President of the United States has learned and so can you:
Incorporate running into a regular schedule. Try not to just run on days when you're not working or you have more free time. Even a short, 10 minute run at lunch will provide great benefits to your health over time. By being more consistent with your running you will have less injuries and you will gain fitness and speed more quickly than having to re-build your endurance after every break you take from the sport.
Instead of sitting for an hour in a meeting, make it a "Running Meeting"! Grab your co-workers and walk or run while you discuss important topics. You can always make these at the beginning or end of the work day to avoid sweating in your dress clothes. Use a voice memo recording on your phone if you need to take notes. By moving more throughout your day you will increase your fitness and decrease risks of injury and disease.
Here's a video of how our President and Vice President decided to incorporate these ideas into the LetsMove Campaign and into their daily life at the office. Disclaimer: I did not re-train their running form (yet).
Perform a Dynamic Warm Up and Cool Down. Even just a few minutes of additional time spent warming up and cooling down correctly can prevent injuries and help your next run feel better, too.
Twice a week add in running-specific strength training to prevent injuries and improve your speed. Learn more about programs here.
Now take your presidential education into your daily life!